Accelerate Growth with Microsoft Fabric: Learn in Just One Day!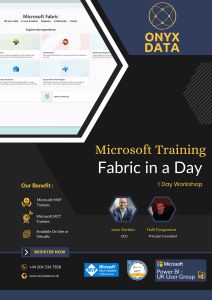 Are you ready to transform your business operations, enhance efficiency, and accelerate growth?
Welcome to our exclusive Fabric in a Day workshop, where you'll gain the knowledge and skills needed to harness the full potential of Microsoft Fabric. Discover how this powerful platform can revolutionise your organisation in just 24 hours.
Why attend the Fabric in a Day Workshop?
Our workshop is led by industry-leading experts who have extensive experience in leveraging Microsoft Fabric, showcasing unparalleled expertise. Benefit from their insights, strategies, and best practices to unlock the true power of this game-changing platform.
Hands-On Learning: Dive deep into the world of Microsoft Fabric through immersive, hands-on exercises and real-world case studies. Learn how to seamlessly integrate Fabric into your existing systems and workflows, maximising efficiency and collaboration.
Accelerated Adoption: Discover practical techniques to ensure a smooth transition for your team. Give your employees the knowledge and skills to fully embrace Microsoft Fabric, so it has an immediate impact on your business.
Customised Solutions: We tailor our workshop to address the unique needs of your organisation. We will assist you in utilising Fabric's capabilities to achieve tangible outcomes and outperform your competitors, regardless of your industry.
Networking Opportunities: Connect with like-minded professionals who are also on a journey to transform their businesses. Share insights, exchange ideas, and build valuable relationships that can open doors to new partnerships and collaborations.

What You'll Learn:
Introduction to Microsoft Fabric and its Key Features
Best practices for implementing Fabric within your organisation
Integration techniques for existing systems and workflows
Streamlining processes and optimising productivity
Enhancing collaboration and communication across teams
Leveraging data analytics for data-driven decision-making
Maximising security and compliance with Fabric's robust capabilities
Investment:
The Fabric in a Day workshop is an invaluable investment in your organisation's future. This immersive experience offers a high return on investment by unlocking your business's untapped potential and driving long-term growth.
Frequently Asked Questions:
Do we need to deliver the training in a single day? Yes, we have designed this intensive workshop to provide comprehensive training in just one day.
Is onsite training available? Currently, our workshop is available online, but we can discuss custom training options to meet your organisation's specific needs.
Can I request customised training for my organisation? Absolutely! We offer tailored solutions to address your organisation's unique requirements.
Who Can Apply For This Fabric Training?
This is for data analysts who want to enhance their skills using Microsoft Fabric. They focus on advanced data processing, querying, and generating insights.
Data engineers are professionals responsible for designing and building data pipelines and data integration solutions. They can benefit from the training to learn how to optimise data workflows and leverage the capabilities of Azure Synapse Analytics.
Business Intelligence (BI) Teams: Teams involved in creating reports, dashboards, and visualisations to derive business insights Training can help them use Azure Synapse Analytics for better data modelling, analysis, and visualisation to support decision-making.

Course Fees:
Online Classroom: Self-Paced
Learning
One-to-One Support Within the Session
Hands-on exercises and labs
On-Going Support
Price: £349, £249 per person (28.65% off the introductory offer)
Don't miss this opportunity to unleash the power of Microsoft Fabric and take your business to new heights.
Contact us today to secure your spot in our upcoming Fabric in a Day workshop!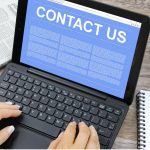 Click, read, and hear more about data and artificial intelligence  with our blogs on our website.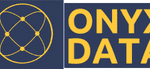 Revolutionise your business in just 24 hours!
Citations