Data Strategy that works.
Our practical method for crafting a data management and analytics strategy is here to help.
With a proven track record of success, our method produces a concise roadmap that will define and prioritise your data-related efforts, all while ensuring alignment with your corporate objectives and functional departmental goals.
Say goodbye to data-related headaches and hello to streamlined, data-driven decision-making.
Horizon begins by conducting a thorough evaluation of your organisation's data landscape, assessing data sources, quality, and governance. This comprehensive assessment lays the foundation for a tailored data strategy that aligns with your business objectives.
Our framework provides a detailed roadmap, outlining the steps necessary to achieve your data strategy goals. Horizon's roadmap includes milestones, KPIs, and a timeline to ensure your organization stays on track and achieves measurable success.
Horizon's data governance framework ensures data quality, consistency, and accessibility across your organisation. Our framework helps establish data policies, roles, and responsibilities, promoting a culture of accountability and data-driven decision-making.
Unlock the power of advanced analytics with Horizon's suite of tools and techniques. Our framework enables your organization to leverage machine learning, AI, and predictive analytics to gain valuable insights, optimise processes, and drive innovation.
Horizon's data strategy framework is built on a scalable and flexible architecture that adapts to your organisation's evolving needs. As your business grows and your data requirements change, Horizon ensures that your data strategy remains agile and resilient.
Horizon equips your organisation with the tools and insights needed to make informed, data-driven decisions that drive growth and competitive advantage.
Streamline processes, reduce redundancies, and optimise resources by leveraging the power of data with Horizon's comprehensive framework.
Harness the potential of advanced analytics and machine learning to drive innovation and stay ahead of the curve in your industry.
Ensure data quality, security, and compliance with Horizon's robust data governance framework.
Horizon's flexible architecture ensures that your data strategy can evolve and adapt to your organisation's changing needs.
Find Out More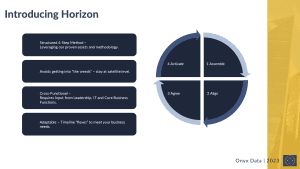 Horizon is a cutting-edge data strategy framework designed to empower businesses to harness the full potential of their data. With its innovative approach and comprehensive toolkit, Horizon enables organizations to create a robust and scalable data strategy that drives growth, boosts efficiency, and fosters a data-driven culture.
Case Study
Case Study
Find out how we partnered with our clients to enable them to increase efficiencies and drive revenue with data.
Find out more.
Free Download - How your Business can Leverage Microsoft Fabric
Are you tired of drowning in a sea of data from multiple sources?
Do you struggle to manage your data effectively, resulting in data silos, multiple copies of data, and poor data quality?
These challenges can be a major roadblock to your business success, making it difficult to make informed decisions and stay ahead of the competition.
In today's data-driven world, businesses are constantly inundated with data from a variety of sources.
However, many organisations struggle with managing this data effectively, leading to data silos, multiple copies of data, and poor data quality. These challenges can make it difficult for businesses to make informed decisions and gain a competitive edge.