A Guide to Microsoft Power Platform and PowerApps
In today's digital age, organisations are constantly seeking ways to streamline their operations, improve productivity, and adaptswiftly to ever-evolving business needs. One remarkable solution that has been making waves in the world of business process automation and application development is Microsoft Power Platform, and at its heart lies the dynamic tool known as PowerApps. In this comprehensive guide, we'll explore what Microsoft Power Platform is, the main uses of PowerApps, its benefits, and alternatives.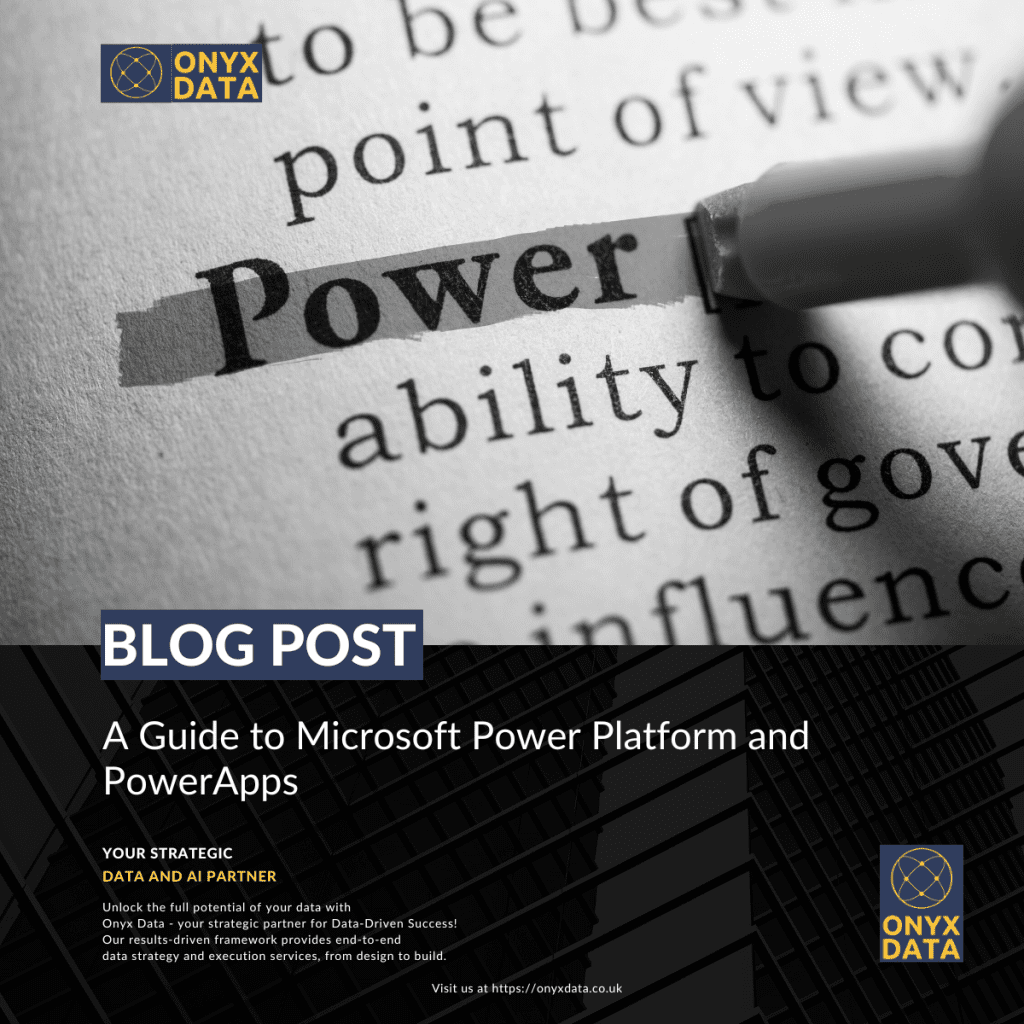 What is Microsoft Power Platform?
Microsoft Power Platform is an integrated suite of business applications that empowers individuals and organisations to analyse data, automate processes, and create custom applications with ease. It consists of four key components:
Power Apps: A platform for building custom applications, including canvas and model-driven apps, with little to no coding required.
Power Automate: A workflow automation tool that enables the automation of repetitive tasks and processes, improving efficiency.
Power BI: A powerful data visualisation and business intelligence tool that allows users to create interactive reports and dashboards.
Power Virtual Agents: A platform for creating chatbots and virtual agents to enhance customer service and engagement.
What Are the Main Uses for Microsoft PowerApps?
Microsoft PowerApps is a crucial component of the Microsoft Power Platform, primarily focused on enabling users to create custom applications tailored to their unique business needs. Its main uses include:
Rapid App Development: PowerApps allows users to swiftly build applications with an intuitive, low-code/no-code interface. It's an ideal solution for organisations looking to develop applications quickly.
Data Integration: PowerApps seamlessly integrates with various data sources, including Microsoft 365, Dynamics 365, and external databases, allowing users to access and manage data effortlessly.
Streamlined Processes: Organizations can use PowerApps to automate and streamline business processes, reducing manual effort and minimising errors.
Mobile Accessibility: PowerApps applications are responsive and can be accessed on mobile devices, ensuring that users have the tools they need wherever they are.
What Are Power App Solutions?
Power App solutions are custom applications created using PowerApps. These solutions can address a wide range of business challenges and are designed to cater to specific needs. Power App solutions empower organisations to digitise processes, enhance productivity, and drive innovation.
Is Microsoft's Power Platform a Low-Code Platform?
Yes, Microsoft Power Platform is often categorized as a low-code platform. It empowers users, including those with limited coding experience, to create custom applications and automate processes through a visual interface. This low-code approach accelerates application development, making it accessible to a broader range of individuals within an organisation.
What Are the Benefits of Power Apps?
The benefits of PowerApps are extensive and include:
Rapid Development: Quickly build custom applications to address specific business needs.
Efficiency: Automate repetitive tasks and streamline processes, reducing manual effort.
Integration: Seamlessly connect with various data sources and Microsoft services.
Mobility: Access applications on mobile devices, ensuring productivity on the go.
Customization: Tailor applications to unique business requirements with ease.
Cost-Efficiency: Reduce development costs compared to traditional coding approaches.
What Are the Alternatives to Microsoft Power Apps?
While PowerApps is a powerful tool, there are alternatives available for those seeking different solutions. Some notable alternatives include:
OutSystems: A low-code application development platform known for its scalability and speed.
Appian: A platform that offers low-code automation for creating enterprise applications.
Mendix: A comprehensive low-code platform that focuses on application development and integration.
Google App Maker: A low-code development environment within Google Workspace for building custom apps.
Is Microsoft PowerApps Any Good?
Microsoft PowerApps has garnered widespread recognition for its capabilities in enabling rapid app development, process automation, and data integration. Its intuitive interface, integration with Microsoft services, and scalability make it an excellent choice for many organizations seeking to enhance their productivity and digitize their processes.
In conclusion, Microsoft Power Platform, with PowerApps at its core, offers organisations a powerful set of tools to address their unique business challenges. Whether you're looking to streamline processes, create custom applications, or automate workflows, PowerApps can be a game-changer. Its low-code approach makes it accessible to a wide range of users, and its integration capabilities ensure seamless connectivity with other Microsoft services. While it's a fantastic solution, it's essential to evaluate your specific needs and consider alternatives to determine the best fit for your organisation's requirements.