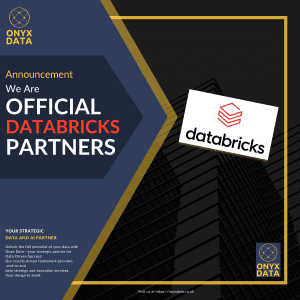 Introduction
Onyx Data is proud to announce our official partnership with Databricks, a leading platform provider of data and AI solutions. The partnership aims to deliver even greater value and innovation to our clients, providing them with advanced data analytics, machine learning, and AI capabilities to make data-driven decisions and drive business growth.
Here are some of the benefits our clients can expect from this exciting partnership:
Advanced Data and AI Capabilities:
Discover valuable insights and drive business growth with the cutting-edge technology offered by Data Bricks. Our partnership allows us to deliver advanced data analytics, machine learning and AI capabilities to our clients.
Scalability and Performance:
Leverage Databricks' scalable cloud platform to efficiently process and analyse massive datasets, regardless of complexity or size. Stay ahead in today's data-driven world with faster and more accurate results.
Collaboration and Efficiency:
Databricks' collaborative workspace enables our clients to work seamlessly together, share insights, and foster a culture of data-driven decision-making. This enhances efficiency, accelerates innovation, and promotes cross-functional collaboration within their organisations.
As an official partner of Databricks, we are committed to addressing the evolving data challenges and opportunities that our clients face. The partnership equips us to deliver exceptional solutions, customisable to meet their unique requirements.
At Onyx Data, we are committed to helping businesses thrive in the era of data-driven decision-making. Our partnership with Databricks equips us to provide businesses with the advanced tools required to drive meaningful business outcomes.
Contact us today!
The partnership between Onyx Data and Databricks is set to revolutionise data analytics and AI capabilities for our clients. With scalable and collaborative solutions at their disposal, businesses can make informed decisions and achieve remarkable growth.
Let's embark on this journey together and unleash the full potential of your data.