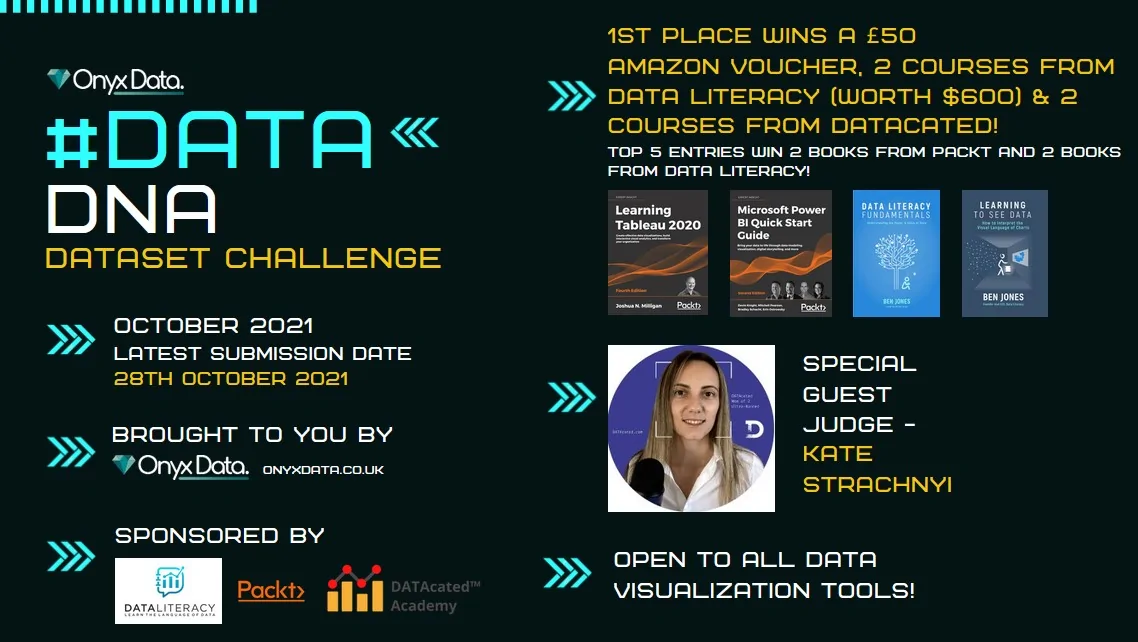 Welcome to October 2021 Data DNA – Dataset Challenge!
Data DNA is your monthly learning and development appointment with yourself and hundreds of passionate data people. For free! Join us every month to work with a given data set and create better, more effective data visualizations, analysis and help us make information more accessible. The Data DNA community comes together every month from around the globe and we would love for YOU to become part of it, too.
Win £50 Amazon Voucher, 2 Data Literacy courses worth $600 and 2 courses from DATAcated!
A winning entry will be chosen based on best visualization and successfully following the entry rules – winning a £50 Amazon voucher code, 2 Data Literacy courses worth $600 and 2 courses from DATAcated!
The top 5 entries will also receive 2 data books from our sponsors Packt and 2 books from our sponsors Data Literacy!
How to submit your entry:
Follow Onyx Data on LinkedIn
Share a LinkedIn post that contains both a direct @ mention to @Onyx Data, and the hashtag #dataDNA (it's OK if you already follow Onyx Data)
In your post, share an image of your visualization or dashboard (remember, it must be a single image)
Tag, mention, and invite 5 connections to view your post or play along (optional)
Marvel Vs DC Dataset
This month we are analyzing Marvel Vs DC movies data!
We looked at some of the major movies in the DC and Marvel universes, can you answer the question: whose movies are better, DC or Marvel?
Structure
Primary
Quantitative
– IMDB_Score
– Metascore
– Votes
– USA_Gross
Categorical
– Year
– Movie
– Genre
– Rating
– Director
– Actor
– Description
– Category
Data DNA – Dataset Challenge September 2021 – Winner
This month's winning visualization is by – Akpan Nsikak
Data DNA – Dataset Challenge September 2021 – Runners Up
This month's runner up visualization are by – Nidhi Chinchkhede, Santhanalakshmi Ponnurasan, Karan Raj and Kor Jia Hong